As low as

$15.00


(Price in Australian Dollars(AUD) only)
Email

Quick Overview
Realistic instant fake snow
Ready in just 3 minutes
Perfect for displays and kids play
Easy clean-up
Looks & feels just like real snow
Is dry to touch & play in
Easy to use, safe, non-toxic & biodegradable
Quick Overview
Realistic instant fake snow
Ready in just 3 minutes
Perfect for displays and kids play
Easy clean-up
Looks & feels just like real snow
Is dry to touch & play in
Easy to use, safe, non-toxic & biodegradable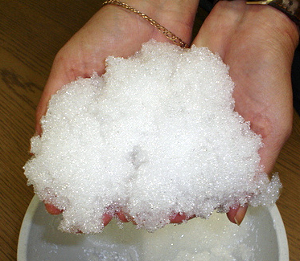 Create a white snow theme any time of the year with D'ziner Snow.
D'ziner Snow is a versatile, cost effective, realistic & revolutionary fake snow product. You've never seen anything like D'ziner Snow. Looks & feels exactly like snow. It will amaze you, your friends, your neighbours, everyone! Used all year round in shop displays, weddings, functions, birthdays, themed parties, snow parties, winter parties, xmas parties, snow hobbies...all sorts of fun!
Polymer Innovations D'ziner Snow is a unique polymer bead that absorbs large amounts of water. Just a small amount of this polymer powder added to water transforms into sparkling white snow in minutes. Polymer Innovations D'ziner Snow polymer beads when kept out of UV light, dry, clean & free of contaminants can be reused again & again!
It is as close as you can get to the slopes without going there!
Unlike some inferior products, D'Ziner Snow is made from a spherical polymer bead, which ensures a bright, glistening, realistic look.
D'Ziner Snow is available in a range of packs sizes, from 190gm through to 20kg. Use our simple calculator to work out how much you need.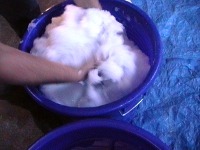 Step 1: Add clean water to a clean bucket ready for mixing. For each litre of water you will need 10-15 grams (2-3 teaspoons) of D'Ziner Snow granules
Step 2: Stir water while adding D'ziner Snow to prevent "gel-blocking"
Step 3: Continue to stir for 3 to 4 minutes as the D'ziner Snow mixture starts to thicken
Step 4: In just a few minutes your D'ziner Snow becomes firm & dry. If snow is too wet, add more granules - if too dry, add more water
Step 5: Your D'Ziner Snow is now ready for play or display!!

For more information please refer to our D'ziner Snow FAQ page.